Government Takes Action on Abbott/Chapman Report
The Government of BC has released its action plan in response to the government-commissioned, independent Abbott/Chapman report on the unprecedented 2017 wildfire and flood seasons in British Columbia.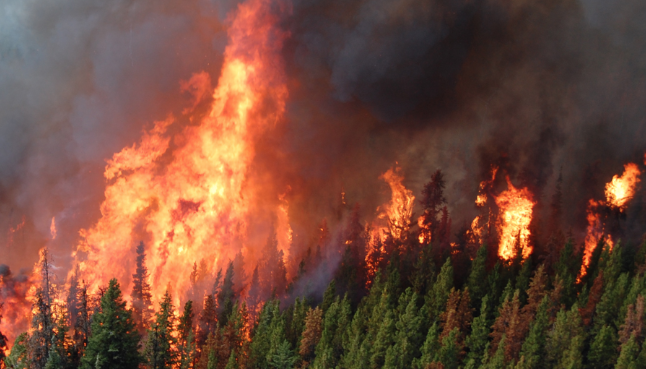 The plan outlines actions taken and underway, and identifies next steps to address the report's 108 recommendations. It also considers recommendations from other recent reports, such as the auditor general's report, Managing Climate Change Risks, and the federal House of Commons June 2018 report, From the Ashes: Reimagining Fire Safety and Emergency Management in Indigenous Communities.Key actions underway include:
Building on partnerships with Indigenous and local communities to improve emergency preparedness and build local capacity and resources for disaster readiness, response and recovery. This includes expanding FireSmart funding and resources under the new $50-million Community Resiliency Investment Program and supporting community-led emergency planning.
Incorporating local and traditional Indigenous knowledge into emergency management practices, including ensuring that community wildfire protection plans and forest fuel management plans consider traditional land uses and knowledge.
Improving response and recovery integration, tools and resources across provincial agencies. This includes using technology to assess wildfire and flood impacts and starting development of a new provincial disaster recovery framework to adopt a more integrated, co-ordinated cross-ministry approach to recovery, while recognizing the important roles of First Nations partners and a variety of stakeholders.
Improving public information and outreach to Indigenous governments and communities and local stakeholders. This includes engaging with First Nations at regional partnership tables, supporting local and Indigenous communities in preparing community recovery plans, and building awareness of the mental-health impacts of wildfire and the resources available for British Columbians.
The Province continues to work to address the impacts of the 2017 and 2018 wildfires and floods and assist in the recovery of affected communities. The action plan supports the development of comprehensive integrated policy, programs and protocols to manage all phases of disaster from prevention and preparedness through response and recovery, now and in the future. The goal is to reduce disaster risk and increase community resiliency in B.C.
Progress updates on the action plan will be released biannually over the next two years. An update is scheduled to be issued April 30, 2019.
Quick Facts:
On Dec. 4, 2017, the B.C. government launched an independent review of the response to the 2017 wildfire and flooding seasons. The review was led by George Abbott and Maureen Chapman, Hereditary Chief of Skawahlook First Nation. Their report, Addressing the New Normal: 21st Century Disaster Management in B.C., which includes 108 recommendations related to disaster management, was released in May 2018.
In 2018, more than 1.3 million hectares burned during the wildfire season – the largest number on record – forcing thousands of B.C. residents from their homes. A provincial state of emergency was in place from Aug. 15 to Sept. 7. The total estimated cost of 2018 wildfire and flood response is more than $400 million.
In 2017, 1.2 million hectares burned, displacing more than 65,000 residents during the longest state of emergency in B.C.'s history. The total cost of wildfire and flood response in 2017 was close to $650 million. Before the 2017 wildfire season, the most-recent declared state of emergency was issued in August 2003 in response to wildfires.
Learn More:
To read the action plan and the Abbott/Chapman report, visit:
https://www2.gov.bc.ca/gov/content/safety/emergency-preparedness-response-recovery/emergency-management-bc
For information on wildfire prevention, visit: www.gov.bc.ca/FireSmart
For information on how to prepare for an emergency, visit: www.gov.bc.ca/PreparedBC