BC Rural Centre: Helping Rural Communities Succeed!
Inspire — Share Tools — Cultivate Capacity — Facilitate Action.
Those words nicely summarize the primary purpose of the BC Rural Centre. We want to help fill the information gap that exists in rural BC, as it does in most of rural Canada and the USA. Specifically, we are constantly looking to find — or create — useful, actionable, often inspirational reports, case studies, podcasts, videos, and other tools designed to help rural and First Nations residents make their communities stronger, more resilient.
Don't hesitate to contact us with questions or suggestions — we'd be delighted to hear from you!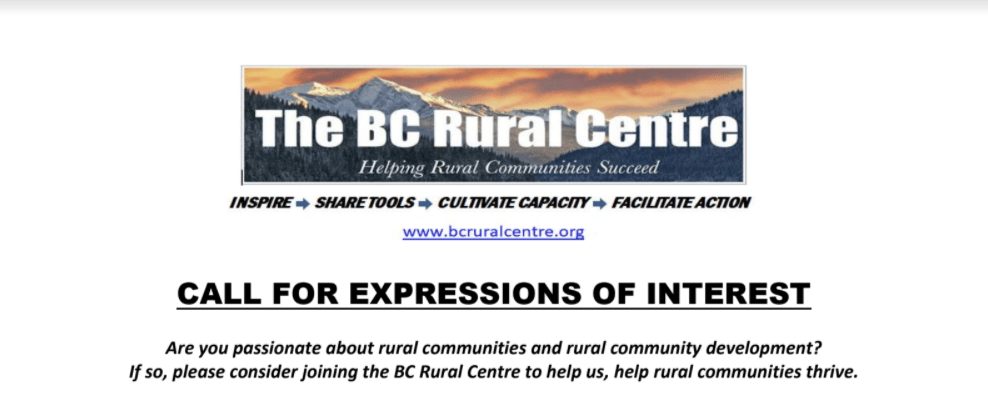 The BC Rural Centre (BCRC) is a small provincial non-profit Society dedicated to providing information, resources and services to BC's Indigenous and rural communities, to help them successfully address common challenges they face. Due to an impending retirement and workloads, the BCRC is interested in hearing from individuals interested in joining the BCRC to help us fulfill our mandate. We are seeking expressions of interest for two key part-time positions – Digital Media & Research Coordinator and Executive Director — with the opportunity to expand to full-time employment based on annual project activity.
For more information, click here.
Stay Informed!
Visit our COVID-19 page for helpful links. And be sure to regularly check our News feed (see below) for the latest coronavirus-related news that's relevant to rural, remote, and First Nations British Columbians. If you have important information to share, please drop us a note, at: info@bcruralcentre.org.