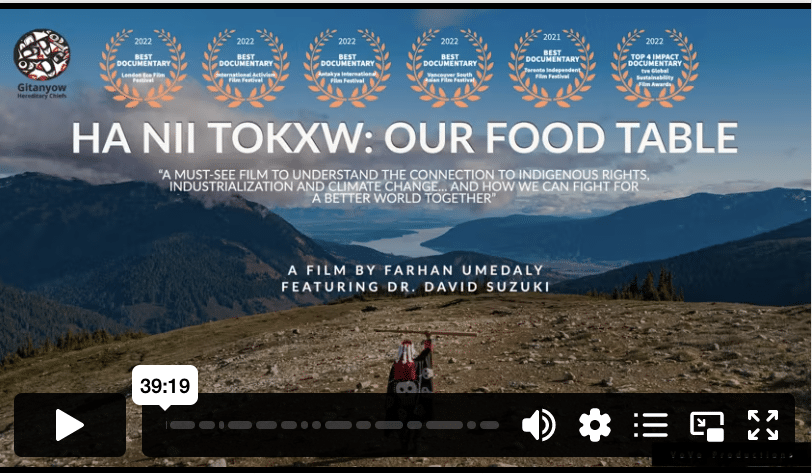 HA NII TOKXW: OUR FOOD TABLE
The story of the indigenous Gitanyow people and their struggle to protect their traditional lands and "food table" in the face of climate change, industrialization and colonization in Northern British Columbia. SIGN THE PETITION TO PROTECT THIS SACRED PLACE: https://chng.it/h5rzcPgkXZ
Featuring: Dr. David Suzuki Gitanyow Hereditary Chiefs www.gitanyowchiefs.com
A film by Farhan Umedaly VoVo Productions 2021 @vovoproductions Director's Statement: Beyond its majestic beauty and nature hidden threats are pushing the delicate ecosystem of the Meziadin Lake watershed to the brink. Ha Nii Tokxw, takes audiences on a visually stunning adventure through Wilp Wii Litsxw territory to uncover its ecological significance both regionally and globally. The film also delves deeper into the dark history of colonization and exploitation which has placed this ecosystem in peril. It's time we start connecting the dots between climate change, colonization and industrialization. Land acknowledgements in public gatherings and email signatures are not enough; we need to take action by supporting those who are the rightful owners and keepers of the land and water. Join the battle to support the indigenous Gitanyow in ensuring this sacred place has a fighting chance.
HA NII TOKXW: OUR FOOD TABLE from VoVo Productions on Vimeo.
HA NII TOKXW: OUR FOOD TABLE
[OFFICIAL TRAILER] from VoVo Productions on Vimeo.