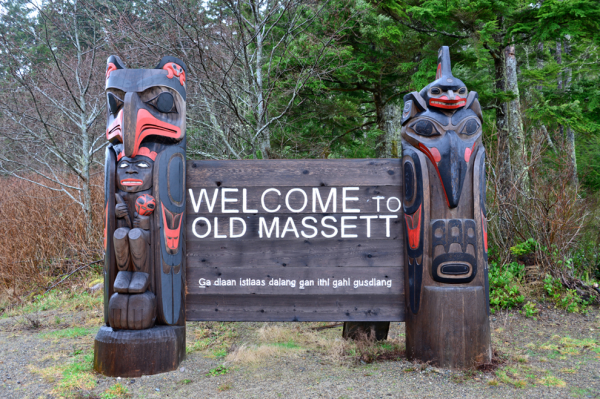 Old Masset Turns Up the Heat!
Energy/heat in the village of Old Masset on Northern Haida Gwaii, as in many remote BC First Nations and rural BC communities, has always been hugely expensive. On Haida Gwai, hydro is provided by diesel generation, and other heating fuels are barged in 100 kilometres across Hecta Strait, not only making them expensive but also giving them a significant carbon footprint.
After the Old Masset Village Council developed a community energy plan in 2013, it was discovered it was costing the band close to $200,000/year to heat its Health Centre, the Band office and community hall, Chief Mathews School, and the Social Development building including Haida Child and Family Services — and that they were emitting over 300 tons of carbon/year into the environment.
Once the band acquired a 50 percent stake in a local sawmill, the idea of  installing a biomass boiler capable of heating these community buildings began to take form and, well, gather steam! A funding drive and preparation work began in early 2015. A year later, the band had received approval from eight funders, which covered 65% of the total project cost of $1.3M. The remaining 35% was financed through the local credit union., with the understanding that the band would pay the equivalent of their present heating bills with the necessary funds flowing from their savings once a new biomass boiler was installed and operational. The band signed contracts with rural BC-based Fink Machine as the lead on the design, installation, and layout of the new system. In addition, locally owned and operated construction companies, electrical contractors, and machine operators provided the support work, pumping cash into the local economy.
From start to finish the entire project took a little over 2 years to plan, fund. and initiate. A 750 kW boiler was commissioned on March 24th 2017, and is operating flawlessly, heating the community buildings with a constant steady heat.
Looking forward, new opportunities are emerging for Old Massett, growing out of their new biomass heating installation. The experience that has come with it could prove invaluable for other rural BC First Nations and communities, as highlighted in this conversation with Old Masset Village Council Economic Development Officer, John Disney.