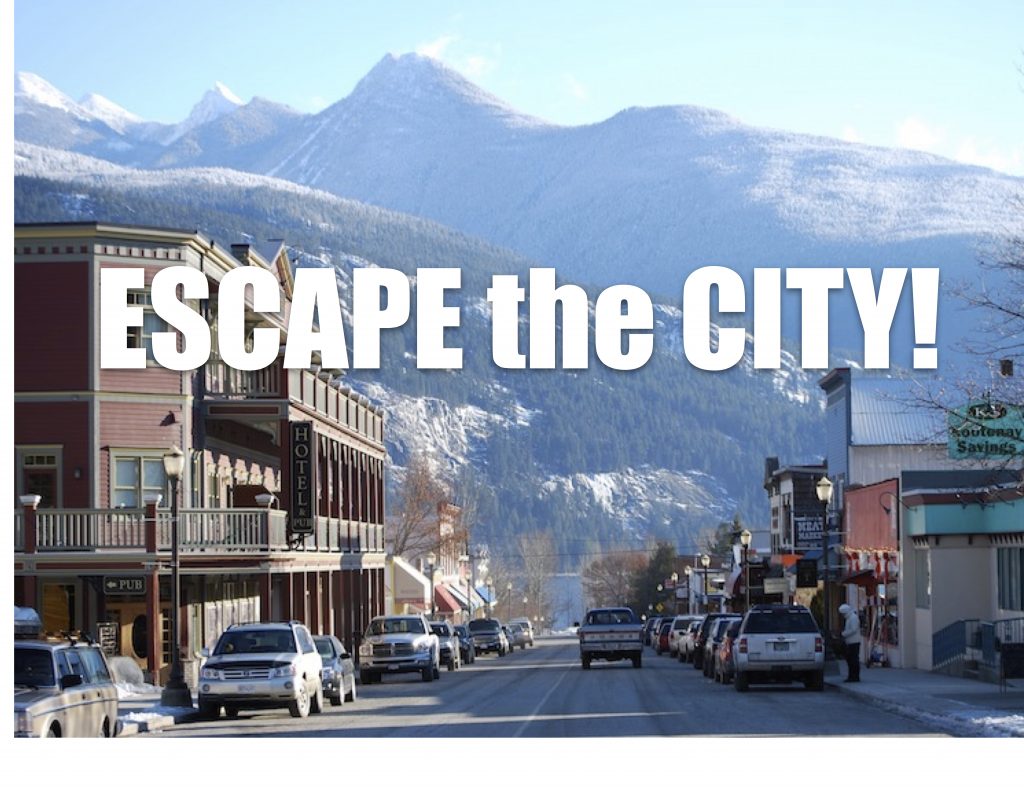 Escape the City — that's a concept that's likely to become increasingly common as our major centres become increasing crowded — and expensive.
Life in a major urban area isn't always all it's cracked up to be. Sky-high housing costs, seemingly endless traffic woes, crime, pollution, noise, and stress — lots of stress — are not everyone's cup of tea (or pint of micro brew, for that matter).
Paradoxically, as cities like Vancouver, Edmonton, and Calgary grow larger, small, rural towns — places with a high quality of life, low cost of living, and a critical mass of amenities — are going to look better and better, especially to young couples and families struggling to make ends meet, and, dare we say it? —  enjoy life.
That's not to say there aren't challenges facing many small towns. Most lack major employers — newcomers are well-served to bring their work with them (which places towns with high speed internet at a distinct advantage these days). Housing, while often significantly less expensive than city real estate, can sometimes be hard to come by. Then there's the issue of relative isolation — it's often a long drive to the nearest mall, let alone airport.
But then many of these rural places also boast great schools, friendly locals, lively local culture, available health care, plenty of shops and services, and high speed internet.
What they don't boast are million dollar 600 square foot apartments and two-hour commutes.
The challenge lies in getting the message out to young city dwellers — the message that there are places out there where work and life can be balanced. Places built on a human scale. Places without freeways or fast food outlets or big box stores. Places where your kids can safely play outdoors, where rivers and lakes and mountains and forests are right out your front door.
That's where the BC Rural Centre comes in.
We've decided to launch Escape the City! A contest aimed squarely at young urban couples and families, inviting them to tell us why they'd love to move to Kaslo, a quaint, spectacularly situated village of 1,000 located on the western shore of 130-kilometre-long Kootenay Lake about an hour north of Nelson.
Escape the City! entry is simple. All contestants have to do is upload a video (max 2 minutes), explaining why they'd love to consider a move to Kaslo. And what they feel they could contribute to the community.
Residents gather for a 125th birthday drone photo on Kaslo's Front Street.
What's in it for the winners? Four nights and three days (June 29 through July 2) in Kaslo, with accommodation, meals, and a travel stipend provided by the Centre.
During their stay, the city escapees will be immersed in small town life. They'll meet other young families, tour Kaslo's fantastic K-12 school, chat with entrepreneurs and shop owners and realtors, attend a backyard potluck featuring friendly people and Kootenay-style live music, join the crowd on the beach near the SS Moyie, the world's largest existing sternwheeler, for the Canada Day fireworks over the lake, and enjoy a range of outdoor activities tailored to suit their interests. All the while tweeting and posting about their experiences.
We hope Escape the City! will serve to focus attention on small town BC as a fantastic option for young urbans tired of the rat race.
And who knows? Kaslo might just end up with some enthusiastic new residents into the bargain!