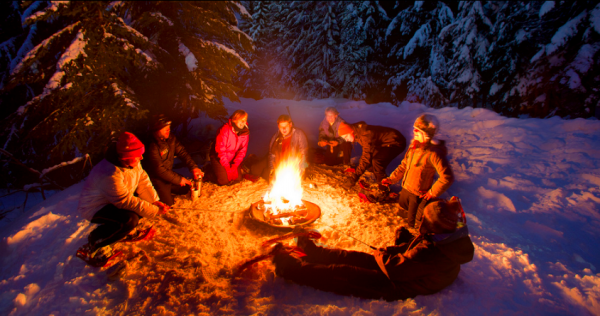 Between a Lake and a High Place
Experiential tourism operations are popping up all over rural BC, taking full advantage of the province's varied — and spectacular — terrain, its rich cultural resources, and the hunger among jaded city dwellers to experience "something unique." This article by Gina Begin, originally posted on kootenayrockies.com, describes a small, rural BC company that takes the word "experiential" quite literally.
"I need this every day."
That's what I whispered to my neighbour as we sat listening to the notes of a harp float into the forest night. I, along with a handful of others, were taking part in one of the 'experiences' hosted by the aptly named Kaslo company, Between a Lake and a High Place.
Let me back up a bit. In case you haven't noticed, travelling like a local is on the rise. Worlds apart from playing the tourist, travelling asks you to explore places less-travelled and — while doing so — dive into the culture, interact with the locals, and take a hands-on approach to the experience rather than being waited on hand-and-foot.
And that's what Between a Lake and a High PLace asks, too.
Our day began just after noon at Kaslo's SS Moyie, a national historic landmark and point of pride for the village. It made good sense to meet here, too; we were about to embark on one of the two experiences of the day, and we were starting with a historic re-enactment of Kaslo's earliest days.
Little did I know, I was going to play a part in that.
After introductions were finished, Dana Blouin — co-founder of Between a Lake and a High Place along with her husband François gave us just a hint of what was store. We loaded into various vehicles and played follow-the-leader toward our stage for the day: the network of forest and wandering paths that make up the Kaslo River Trail system.
This is a recent favourite of mine. The trail system has a choose-your-own-adventure feel to it with different paths leading to different discoveries. This setting mirrored the two entirely different experiences it would play host to this day: the history-charged 'David Kane's Workgang' and the meditative nightcap we'd explore that evening during 'Acoustic Walk, Last Light'.
We unloaded our respective vehicles at the trailhead as Dana unloaded a container. Inside her box was a collection of old-timey caps and suspenders. She invited us to pick one to wear as she passed out bunches of Old Man's beard — an unruly looking lichen — stuck with double-sided tape. Adhered to our upper lips and paired with our borrowed accessories, we'd transformed ourselves into a crew of late 19th-century workers, newly arrived to clear the land that would become Kaslo.
Our 'training' began just up the trail in camp. A short play drew us in to the history we were about to take part in, and then we were off — foraging for foods, learning about wild medicinals, discovering which plants we could use for twine and which we could use to help sustain fire.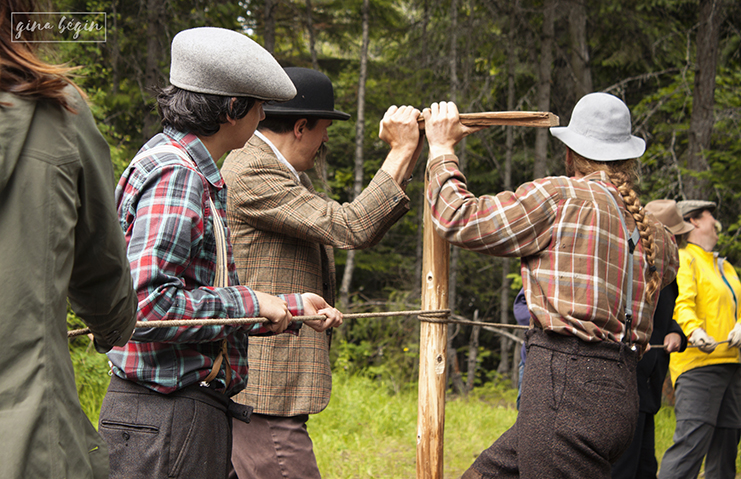 Group fire starter!
We were deemed worthy of our workgang status after our education and newly found skills were put to the test: we scattered off to collect and identify the plants that would serve us best, we hustled to build fires the fastest, and we practised our aim in the target range. The reward of our work was a sampling of homemade preserves, thick slices of local sourdough bread, and equally thick slices of beef jerky. We washed our snacks down with raspberry leaf tea and hiked back to reality, ending our part in history's story.
After a few hours in Kaslo spent talking with the team at Angry Hen Brewery, Kaslo's new, and only, brewery; we headed to dinner at one of my personal favourite restaurants, Taqueria el Corazon.  Here they serve up handmade tortillas that are the pillowiest you've ever sunk your teeth into and we watched the sun beginning to lower its angle, casting golden hues over Kootenay Lake.
We were stuffed with fresh, rich food, happy on conversation, and ready to relax into the promise held in our next experience, Acoustic Walk, Last Light. I'd read the description online beforehand; even the idea it illustrated left me feeling slightly dreamy:
"The evening light that softly filters through the forest is gradually replaced by twilight and near silence. It is now quiet time in the forest…or is it? Let your senses guide you through this experience from start to end; close your eyes, breathe, listen, feel, be silent…..and you will be rewarded with a heightened awareness of the coolness in the air, humidity you can taste, and with natural and musical acoustic sounds near and far."
Meeting at a second trailhead just outside of town, Dana handed out foam pads, headlamps, and bandanas. Our only instruction was to use the time allotted in the experience to listen, and allow others to do the same.
We moved out from under the open sky and into the canopy of the trees. The light played hide-and-go-seek through the branches, illuminating spots of thick moss carpet and tips of fresh evergreen growth.
Under those trees, in that quiet, we moved through a fairy-land.
Dana and François both worked in the natural sciences before moving to Kaslo to start a new life with Between a Lake and a High Place. As our guides through this forest, their knowledge, spoken in soft words, deepened the appreciation for what our visual senses were taking in. We were shown mushrooms and orchids, told how the network of the forest microbes sustained each other, and were given the identities of songbirds with ethereal voices.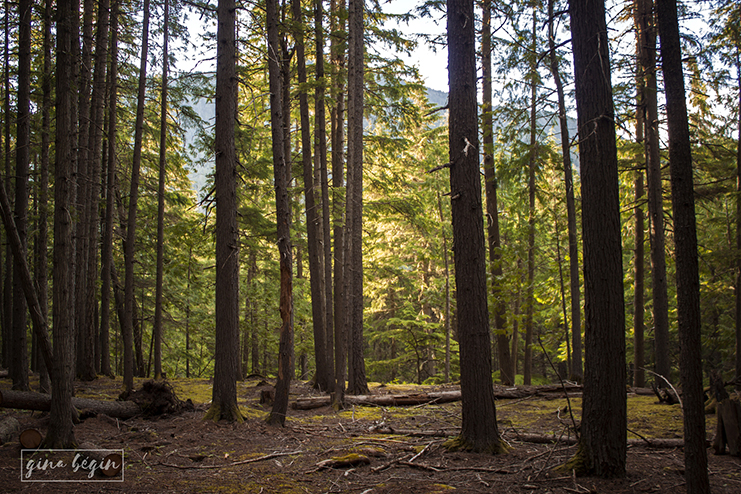 Getting comfortable in the forest.
We came to a relatively flat area and Dana invited us to find a spot to get comfortable. We unfurled our foam pads and laid on our backs in silence. Other than seeing others' posts on Instagram, I had forgotten what staring up at treetops looked like. I'd forgotten the softness of the spongy ground in forests like these.
I'd forgotten what it was like to be still.
Dana led us through a type of meditation, almost akin to the savasana period at the end of a yoga practise. Staring up at the tree tops, coming together into the centre of my vision, and listening to only Dana's voice and the forest sounds she asked us to be aware of, my mental state turned to liquid. I heard the birds, I heard her voice, and I heard my heart beating. But other than that, all was still.
I closed my eyes to the canopy and concentrated on just the sounds. I could have stayed there forever.
We travelled on, though, cupping our hands around our ears to amplify sounds the way animals' ears do. We descended from higher ground, listening to the transition of sounds move from the soft snaps of needles to the song of the thrushes competing with the rush of the Kaslo river. Coyotes joined in a haunting chorus while the sun sunk further still. We struggled to identify their call as the trees bounced their howls from trunk to trunk.
And then, in the midst of those haunting calls, in the midst of that fairyland, a new sight — tiny lights — and a new sound — the striking of harp strings.
The blue of early evening was fading fast, but mason jars, filled with lightning bug-esque strands of lights, guided us to a perch above the main trail. Here, in a concert hall made of trees, stood a woman and her harp.
I placed my foam pad beneath me and let a fallen log support my back. A warm cup of raspberry leaf tea was provided, along with licorice tea, gluten-free turtle brownies, and vegan berry desserts — the latter two both prepared by the woman in front of us.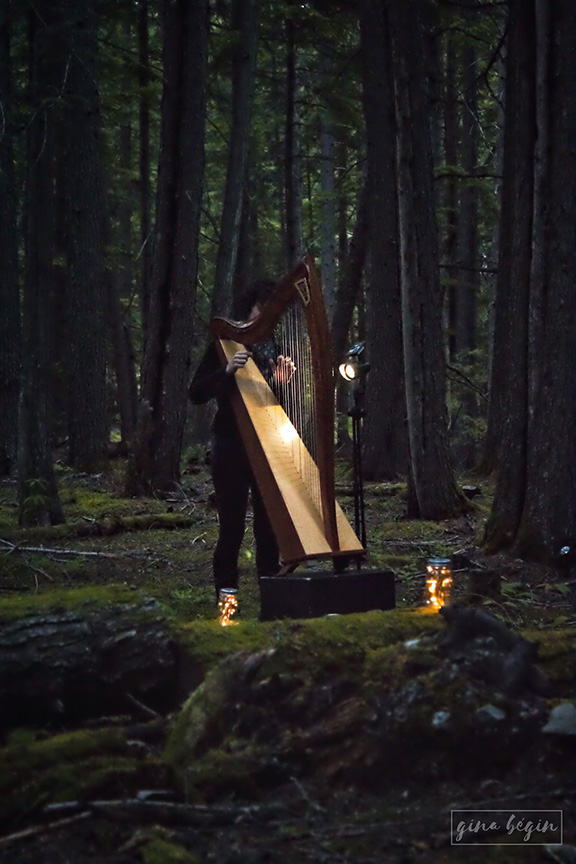 Forest bathing at twilight with musical notes.
Her name was Dawna McLennan, and not only was she playing a harp in the middle of a twilight forest, not only had she prepared her from-scratch sweets for us, but her voice was also joining the coyotes with both song and poetry.
As soon as she started into her spoken word, I froze. I was in the middle of trying to quietly capture the tiny lights against the darkened harp and forest background when some of the very best poetry I've ever heard spoken aloud stopped me in my tracks. It reminded me of how I felt when I first read Pablo Neruda, just hanging onto every word. Her hands, her voice — it all moved together to capture the words in an expression of depth and sincerity.
I moved back to my foam pad after she finished the poem and sat by one of the participants in the experience. Dawna had moved to a song, and coupled with the playing of the harp, her voice took its place with the ethereal voice of the thrushes. Even the coyotes were quiet.
It was then that I whispered, "I need this every day."
My neighbour nodded her silent agreement, and we listened to the acoustics of the trees accompany Dawna until the light faded entirely into the night.