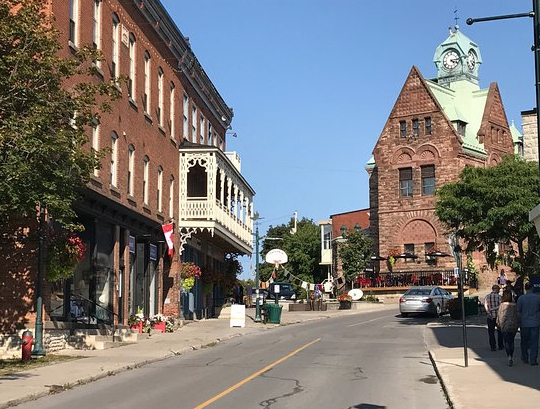 Cooperation At the Heart of One Small Community's Success
Community — pulling together collectively to affect real change — is often the key in small town turn-arounds. In this informative article written by Spotify's Dayna Winter, we're introduced to Almonte, Ontario, a town of 5,000 that has managed to revitalize itself through developing a collaborative consensus around development.
Small towns exist in snow globes, as time capsules of a simple, forgotten way of life, perfectly preserved by those fiercely dedicated to "the way things always were".
At their cores are the original moms and pops: the proprietors of long-standing local hardware stores and salons and arcades—people you know on a nickname basis.
Though I've spent the past 17 years in North America's fourth largest city, my small town vocal inflections flood back, y'all, as soon as the tallest building slips out of view.
As much as I've tried to scrub myself of my rural crust, assume city sophistication, it grows back persistently like arctic moss. And now? I'm thankful I couldn't shake it. My small town retirement plan has been upgraded to a 5-year plan. The sticks are calling, and I have answered by buying property in a quiet rural community.
My neighbours tell me, "it's hard to make a living here," but this community is actually one of the lucky few. Increased tourism means the opportunities for entrepreneurship are growing in the retail and service sectors.
A thriving commercial strip of quaint shops runs through its centre. This is a rarity I know now—in America, for every gleaming 24-hour mega mart, there is a ghost town in its shadow.
The Rise and Fall and Rise of the Small Business
The big box Big Bang happened in 1962. That was the year that Walmart, Kmart, and Target opened their first locations in the US. Since then, massive chain retailers have been spreading like brush fire, engulfing independent shops—the businesses that built the economic backbone of small town North America.
Within 15 months of a new Walmart store opening, one study found, up to 14 existing retail stores would close in the same area. Smaller discount stores were hurt the most during the mega-retailer's massive expansion in the 1980s and 1990s, their overall numbers declining by almost 40%.
Last year, however, Walmart announced it would be shutting the doors of hundreds of its locations. I'd chalk it up to a win for the little guy, if not for the thousands of job losses, including those in fringe rural communities. Lose-lose.
The news isn't entirely bleak, though. In Canada, small businesses (under 100 employees) made up 70.5% of all private sector jobs and 25.2% of Canada's exports in 2016. In the US, as of 2013, over 22 million people reported being self-employed.
Optimism is high, too, according to a survey of almost 2500 entrepreneurs: 80% of those polled reported that business was the same or better than the same period in the previous year and more than 30% plan to hire in the next three months.
What will become of the small town way of life, threatened by mass retail, closing plants, and bygone industries? Is entrepreneurship the answer?
Welcome to Almonte
Almonte, Ontario, Canada, a modestly-sized town of 5000, lies a few counties east of mine. Like a lot of towns recuperating from dying industries and factory closures, it's a place reinventing itself since its collective bread and butter went stale in the 1980s.
Flashback to 1870. Almonte was an incorporated village that became known for its textile mills. Seven mills employed most of its residents, pumping out steam and woolens through the turn of the century. By the 1950s, though, overseas production had wiped out most of the mills and, naturally, the employment opportunities in millwork.
It's been 3 decades since the last holdout closed its doors (only to reopen as a luxury waterfront condo), but the town has survived, backed by a thriving arts scene and a community of "disillusioned city-dwellers longing for a quieter, more decent quality of life".
Among the disillusioned is Emily Arbour. She grew up in Almonte, but followed the bright lights to a college education and stayed to pursue a career in advertising. But something just didn't feel right.
Because I grew up in a small town, my priorities lay with family and friends.
"I began as a junior copywriter at a US agency in Toronto, and I was working on campaigns for big brands. Not super creative. I was successful, but I just did not like the environment. Because I grew up in a small town, my priorities lay with family and friends. In advertising, I found that everybody was divorced or single, and they would all show up for work at 10 and stay until midnight. I wanted to have a life. I decided I was homesick and convinced my boyfriend (now husband) to move back home with me."
She remembers Almonte the way I remember it, the one-horse variety, with a sparse main street sprinkled with diehard essentials—a grocery store, hardware store, sports store, a Steadman's.
When Emily returned to her stomping ground, she stepped in to manage an art gallery for her father on the main drag. Once she rolled up her sleeves, she expanded on her dad's vision for art and antiques, turning the space into a home décor store called Blackbird.
"It did really well, and then some more shops started to open up. Not necessarily because of me, but you never want to be the only store on the street, right? I think it sort of got the bug in people's heads that maybe this was a good place to have gift shops, that sort of thing."
Blackbird thrived for four years under Emily's management, but it became difficult to balance a family and a small business and she sold it.
"After two years of not having a shop, and while Almonte just continued to get cooler and cooler, I was like, 'I really want to be part of this action'. So I opened Hello Yellow (since renamed Cheerfully Made Goods) in 2013."
I stumbled accidentally into Emily's shop at Christmas last year, while antiquing in the area. It was a bright pop of eclectic retail, living up to it's cheerful moniker. Bold letterpress prints adorned the walls above shelves of handcrafted lip balms, locally-made coasters, and small runs of Emily McDowell printed tote bags.
The curation and merchandising put it on par with the best boutiques in the neighbouring city, while remaining true to the local vibe.
That's intentional, says Emily:
"We really take a lot of pride in how we look from the outside in. We are a heritage town, so despite my store being sort of an electric circus of colors inside, the door is painted a heritage yellow."
The Greater Good
Now, in 2017, Mill Street is a shopping destination – the cherry on top of a community already rich with galleries and arts events – drawing its own share of the tourism.
Long-standing antique stores and staples are now padded on all sides with gift shops, independent apparel and footwear boutiques, a hip café, a kids' store, and a handful of small businesses all working together for the common good.
"We're aware of what's in each other's shops, and everyone knows the theme of their store and sticks with it. For instance, I'm all handmade so other stores pay me the courtesy of saying, 'Hey, I really want to bring in this brand, do you already carry it?' And I would do the same. Tin Barn is very much reclaimed furniture and vintage-inspired lighting – I would just never go there. I think you see a lot more repetition and competition in other places."
It's important that we complement each other rather than compete.
The in-this-together attitude has spread to local residents, too.
"When you're first starting out, they'll buy a bar of soap, or a card. Something small just to support you and say, 'We care that you're here. You're adding value to the town.'"
Almonte is a 30 minute drive from Ottawa, Canada's capital (and home of Shopify HQ!). It's a modestly sized city sprawling with big box discount stores and 3-level shopping centres. Pockets of independent boutiques dot the city with even more shopping options.
"Ottawa is our competition. We're a destination, so we need those shoppers to make that drive out here. We're not just limited to these 5000 people who live here in Almonte. There are other really well curated shops in areas like Westboro and Parkdale. We're all trying to think a little bit more urban, so we can grow a little bit bigger and compete."
There's a feeling that you get when you're here. It's the way that we work together and it's the friendly service.
The added foot traffic has impacted the town's related industries. When Emily was a child in Almonte, the town had no hotels. Inns have started to sprout up in recent years and local government is now running workshops to dispel myths about Airbnb, encouraging its residents to benefit from the boost to the economy.
"I've also noticed that our local butcher has a really great new sign, and suddenly he's offering sandwiches. People are paying a little more attention to overall aesthetic and having more pride. The local government has even erected a brass monument to Dr. James Naismith that is now a great little selfie station in the middle of town."
How to Build a Thriving Retail Community
In the past 10 years, Almonte has successfully created a self-supporting ecosystem of retailers, driving tourism and building the foundation for a self-sustaining future.
What's Almonte's secret and how can other local communities achieve the same?
The answer, in a nutshell: it's complicated.
"It's difficult to pinpoint one reason for the success," says Tiffany MacLaren, the municipality's Community Economic & Cultural Coordinator, "The efforts and creativity of many, combined with natural elements and a rich history have contributed to what you experience when you visit today."
I enlisted the help of some experts and localists. Here are six ways that residents and business owners in rural communities can support entrepreneurship to attract tourism and boost the local economy:
1. Start at the top
I connected with Deborah Markley, PhD at the Center for Rural Entrepreneurship in North Carolina. Deborah's organization believes that creating a foundation to support local business starts at the government level:
"We have seen communities discover amazing things by reaching out to their entrepreneurs – opportunities to transition a strong local business from a retiring owner to a young person in the community; artisans who are interested in moving into downtown buildings to create gallery, studio and retail space; agri-entrepreneurs who are seeking larger markets and opportunities to do more value-added production,"
she says.
In Almonte, Mill Street's merchants sit on the Heritage Committee, actively participating in decision making around street improvements like wider sidewalks, benches, and more parking. According to Tiffany, the municipality also offers a Heritage Property Tax Rebate Program to alleviate the costs for business owners renovating heritage properties.
2. Stick together
Amy Quarry is an entrepreneur, community-builder, localist & founder of Small Town Love, an organization helping communities connect with businesses through programming and mentorship. It encourages entrepreneurs, community leaders, and citizens to work together to improve the profile of independent businesses, counter misconceptions, and support each other.
"Vision is critical," Amy says, "people must believe there is a path forward and commit to finding it together."
Merchant to merchant support extends to neighbourly favours, like helping each other open shop when someone's kid is home sick. In Almonte, the shops communicate frequently via Facebook.
"We have a Mill Street Merchants private group," Emily tells me, "It's where someone will say 'Okay guys, it's a snow storm. What are we doing?' or over Easter weekend, 'Who's open, what hours?' When you go a mall, everybody's open. We're a destination like that. If people are going to come here, we want everybody to be open."
They're very much my coworkers, rather than my competition.
3. Get Online
In addition to her brick and mortar space, Emily runs her ecommerce store using Shopify. It's a move that helped her gain more reach and exposure for local artisans and put Almonte on the map. While she's fortunate to have a good handle on the technical side of her business, the same isn't necessarily true for the older shop owners who struggle with social media and ecommerce.
"The answer is giving them the tools," Emily says, "Some people just aren't as resourceful. There's a group of us—we're all younger, about the same age. We communicate really well, help each other, and info share. We usually have to set the example for the others."
You can't just have an A plan, you've got to have an A, B, and a C plan to keep yourself sustainable.
4. Pool Resources
"We often promote each other," Emily shares with me, "if I'm having a workshop but I also know that that Tin Barn is having a sale, it will always be the bottom of my email. We do that type of thing for one another."
Expensive traditional advertising costs can be divided among the businesses, too. Ten of Almonte's merchants contribute monthly for a collective page in a regional food magazine. "Instead of it costing us a thousand bucks, we each pay $80 a month," she says, "We don't necessarily get our own ad, but it's for Almonte. If the town's busy, then we all benefit, including me."
5. Play up Strengths
"The community needs to understand their local assets," says Deborah, "what is driving the economy right now and who their entrepreneurs are."
In Almonte, the community leaned heavily on the arts, building commerce around the existing tourism base. Many of the businesses lean in a gallery direction, and Cheerfully made Goods celebrates artisans. The rich textile history, and the heritage buildings it left behind, are also a tourist draw—town restauranteurs have woven that history into their stories.
6. Run Community Events
Most shops run a couple of events a year that drive tourism for the greater good.
Tiffany believes that events play a large part in the continued success of local businesses in Almonte:
"Light Up the Night and Puppets Up! in particular both take place on Mill Street," she says. "These events attract visitors from Ottawa and beyond. Business owners support and work with these events to ensure visitors are enchanted and vow to return."
Emily's love of all things handmade also spilled over into events. She helped launch the Handmade Harvest Craft Show in 2010, a yearly event now called Cheerfully Made Markets that received over 300 applications for the next show's 60 spots.
For me, the answer boiled down to one concept: strong community. Success for self-sustaining rural towns depends on a united front dedicated to building, celebrating, and supporting small local businesses.