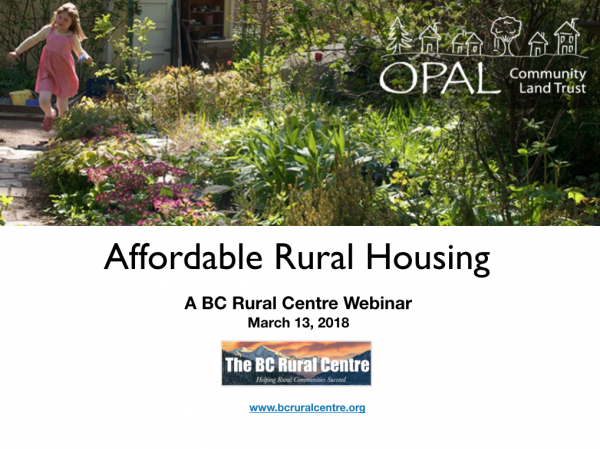 Affordable Housing in Rural Communities
Affordable housing is a pressing issue in many small rural communities, this webinar features Lisa Byers, Executive Director of OPAL ("Of People And Land") Community Land Trust on Washing State's Orcas Island.
Providing affordable housing that's place-appropriate is the real challenge facing many rural and remote communities across North America. There are different approaches that can be taken to address this issue, dependent on the type of housing being considered, target demographics, and local conditions. Lisa and OPAL have pioneered the Community Land Trust model, showcased in the following webinar.

About Lisa Byers
Lisa Byers has been Executive Director of OPAL since January 1996 — she's OPAL's only full-time staff person. Prior to working for OPAL, she served as Land Steward for the San Juan County Land Bank, and for 10 years as a land and property manager for the Society for the Preservation of New England Antiquities (now Historic New England), based in Boston, Massachusetts. Lisa has an undergraduate degree from Vassar College and an M.B.A. in public and nonprofit management from Boston University. In 2006 Lisa was elected to serve as the first president of the National Community Land Trust Network and was awarded the Friend of Housing Award from the Washington State Housing Finance Commission.
For more information on Community Land Trusts and rural housing generally, see our Housing page.