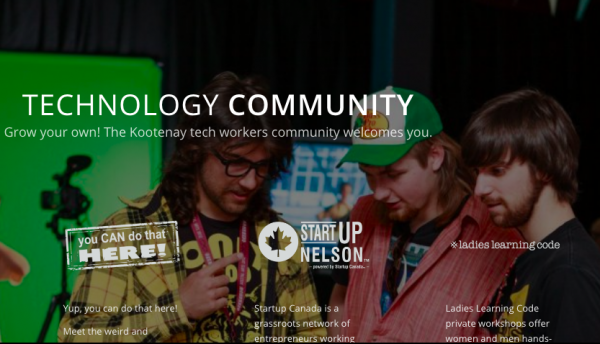 Innovation In Small Town BC
There seems to be general agreement that innovation — the embracing of fresh new ideas and revolutionary new technologies — is crucial to the growth and health of urban economies.
But what about our small towns, rural areas, and First Nations?
As described in a recent BC Rural Centre Success Story, the Cowichan Valley is using a combination of innovative approaches — including the deployment of a powerful online "community commons" — to tackle the challenge of encouraging civic engagement.
In the following report, we take a look at how three other rural BC communities or regions — Revelstoke, the West Kootenay, and Kaslo — are innovating to improve their life quality.
Revelstoke — the Mountain CoLab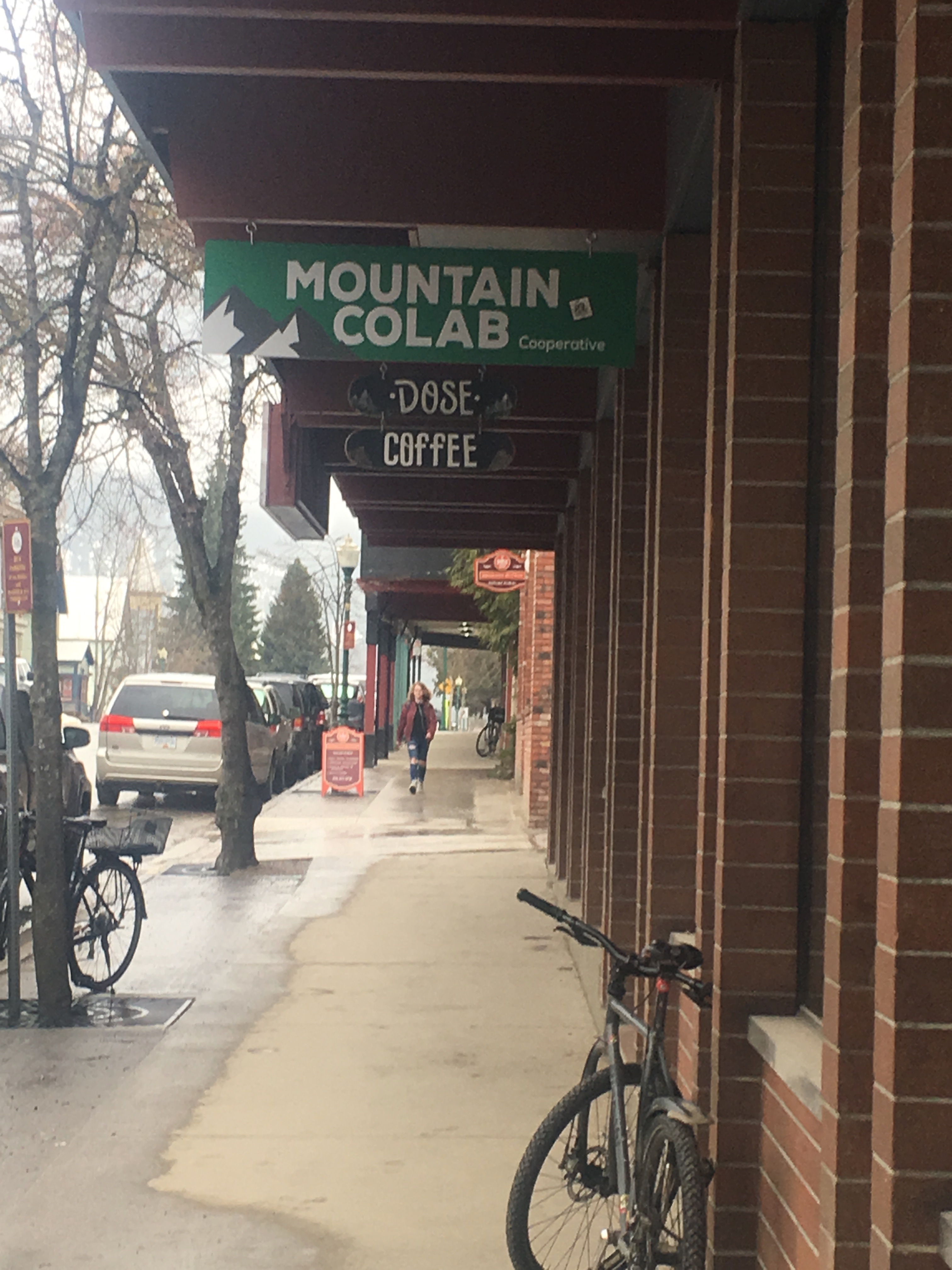 As the mountain town of Revelstoke sees its economy moving from one largely based on forestry and transportation to tourism, growth and an influx of young entrepreneurial types has presented it with challenges — and opportunities.
One novel initiative, located in Revelstoke's downtown core, is called the Mountain CoLab.
In major centres around the world, the rapidly emerging freelance economy, driven by often young professionals untethered from a permanent office, who can do their jobs from, literally, anywhere as long as they have access to a desk and sufficient bandwidth. This has led to the creation of so-called "co-working" spaces, locales that provide the essentials  these "digital nomads" require.
In the last few years, these digital nomads have been flocking to cities like Bangkok, Berlin and Budapest where costs of living are relatively cheap and the WiFi widely available and reliable. They've been characterized as borderless "citizens of the world." They aren't quite tourists and yet, they aren't quite residents. Co-working hubs and home-office hybrids for travelling professionals are popping up all over the place to bring together these 'short-term expats,' who seek social interaction, networking opportunities, a good internet connection, and a decent place to hold client meetings.
Besides the constant quest for a decent Internet connection, digital nomads base their travel decisions on cost of living in their host cities, since they usually stay in their adopted communities for longer periods of time than the typical tourist. In a town like Revelstoke, they come for the lifestyle, for outdoor recreation such as skiing, biking, hiking, and climbing. They are also looking for social support, knowledge sharing, networking, and partners to innovate with outside their professional co-workers in the other side of the planet.
Revelstoke's Mountain CoLab provides an ideal landing spot for digital nomads and local entrepreneurs alike.
CoLab provides a beautiful, central space for entrepreneurs, freelancers, non-profits, and remote employees to work, meet, and network. Modern, shared office experiences with private and open concept facilities that include all amenities for work/life balance together with 150Mbps fibre Internet are available at very reasonable rates.
In two years of operation in Revelstoke, CoLab has grown to 50 members, and has brought hundreds of professionals, locals and digital nomads together to build the community and integrate sustainable businesses.
 CoLab is an official
Startup Canada
Community, connected across the country to 150,000 entrepreneurs, as well as mentors, programs, and funding. (Read more about 
Startup Revelstoke).  
CoLab offers full-time, daily, and monthly space for work, events, or retreats. Visiting professionals can book a hot desk or meeting room online.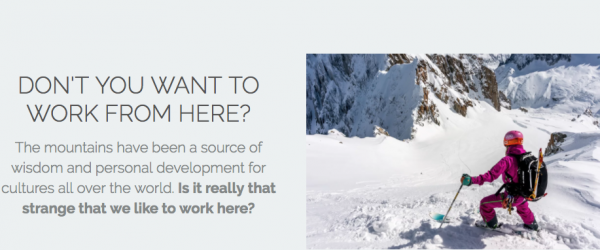 CoLab is also part of the Mountain Coworking Alliance (MCA), a group of elite resort municipalities around the world that work together to share knowledge. Through collaboration and creativity, the MCA serves as a resource for the mountain co-working community. Through the alliance, Mountain CoLab members can work in other mountain communities at their co-working spaces and vice-versa. The partnership provides opportunities for individuals from other communities to come and work in Revelstoke throughout the year.
In its 2017 President's Report, CoLab reports:
Almost 40 full time members and 100 Co-op members that have walked through the door in 2.5 years of service
In their annual survey,  a 99% satisfaction rate
78% stating that they are getting more work done more than ever
50% saying they are meeting best friends forever
40% really wanting more social & business collisions
80% "working hard for the money," and 30% needing more leisure time
Most importantly from Revelstoke's perspective, 92% stated they were there "for the longer term"
CoLab's collaborative ecosystem includes players such as;
KAST (see below) & BCIC
Startup Revelstoke
Community Futures
Chamber of Commerce
RCU
Stoke Youth Network
WorkBC

SmallBusinessBC

The Global Entrepreneur Network
Large and small local employers
Mountain Coworking Alliance
BC Coworking Association
We've only seen the start of the experience we expect to hurtle through in the next decade. Mountain CoLab will do everything it can to promote new ideals of rural life—including science, arts, technology and lifestyle.

— Jean-Marc La Flamme, President, Mountain CoLab
In the end, CoLab aspires to help build a sustainable mountain community in Revelstoke, one where business for social good succeeds with support from participating/contributing technologists, non-profits, freelancers, and entrepreneurs. Certainly bringing together a diverse mix of people, ideas, businesses, and academics under one roof helps to improve the vibrancy of Revelstoke's downtown. An excellent example of how innovation can make a real difference in the prospects of a small rural community.
Kootenay Association for Science & Technology (KAST)
Examples of successful rural innovation may be localized, centred in specific communities, such as the Mountain CoLab or  the Kaslo InfoNet Society (see below). But there are examples of successful broader regional approaches, too. The Kootenay Association for Science & Technology, or KAST, is an excellent example.

Since its inception in 1998, KAST has covered a region of BC's West Kootenay-Boundary region extending from Midway in the west to Salmo in the east, and north to Nakusp, with activity concentrated in the Rossland-Nelson corridor. Through its partnerships and programs, KAST has striven to better serve outlying areas — an explicit strategic goal — since 2015.
In that same year, the provincial government ceased funding technology acceleration in the East Kootenay, where KAST had neither mandate nor funds to provide service – much to the organization's dismay. Working with community partners, the City of Revelstoke created and found funding for a technology strategy, including that most crucial resource – a paid coordinator. Eager to partner, KAST expanded their technology acceleration programs to Revelstoke in 2016-2017, providing encouragement to promising tech startups, supporting technology community and culture building, and helping draft a feasibility study for an innovation centre.
In Nelson, KAST has piloted crucial technology community and culture building since December 2015. The Nelson and Area Economic Development Partnership (NAEDP)  co-funded a coordinator position with KAST, proposed and managed by Community Futures Central Kootenay. Rose Hoeher led the creation of the Nelson Tech & Knowledge Workers group (550 members and growing), launched monthly tech "meetups" of 50-80 attendees, initiated an innovation centre feasibility study, and launched chapters of both Startup Nelson and Ladies Learning Code. KAST intends to use the Nelson experience as a template to drive the growth and visibility of technology culture throughout the region.
KAST's Venture Acceleration Program (VAP) is designed to launch and grow technology ideas, startups or business ventures. Participants receive dedicated attention from an experienced Entrepreneur-in-Residence, a "been there, done it" technology and business professional. Funded by the BC Innovation Council and SIDIT, in 2016/2017, 12 clients accessed $249,300 in investment and generated $4.5 million in revenue.
KAST's You Can Do That HERE! podcasts were listened to 10,701 times in 2016/2017. The organization's High Value Expertise in a Rural Environment (HERE) program helps KAST clients access crucial professional services in legal, online marketing, sales, HR, leadership, engineering and digital fabrication. Funded by the Discovery Foundation, in 2016 the HERE program supported 10 clients with 128 hours of free advice. 21 Mentor/Company matches were made.
Meanwhile, in Trail, the Metallurgical Industrial Development Acceleration and Studies (MIDAS) facility was established, with KAST support. MIDAS is an applied research, commercialization and digital fabrication training facility, focused on Trail's long history of metallurgical sector activity surrounding the Teck Trail Operations smelter. MIDAS makes recent advances in manufacturing technology (including 3D Printing) accessible to West Kootenay companies, entrepreneurs and students.
MIDAS goals include:
Support entrepreneur development and the commercialization of applied, market-relevant research in the metallurgic industry
Expand local small and medium-sized companies' strengths in collaborating, adopting technology, and creating new and marketable products
Promote skills training opportunities in digital fabrication and metallurgical technology for entrepreneurs, company personnel and students.
The organization's activities have included:
Public access to an MIT-certified digital fabrication laboratory, or "Fab Lab", and to metallurgy-specific equipment provided by Fenix Advanced Materials;

Technical training in metallurgical science and digital fabrication;
Organized research and development (R&D) of commercial applications for metals and materials derived from Teck smelter by-products;
Business coaching through KAST's Venture Acceleration Program (VAP).
The following graphic provides an overview of MIDAS' regional impact over its first two years of operation.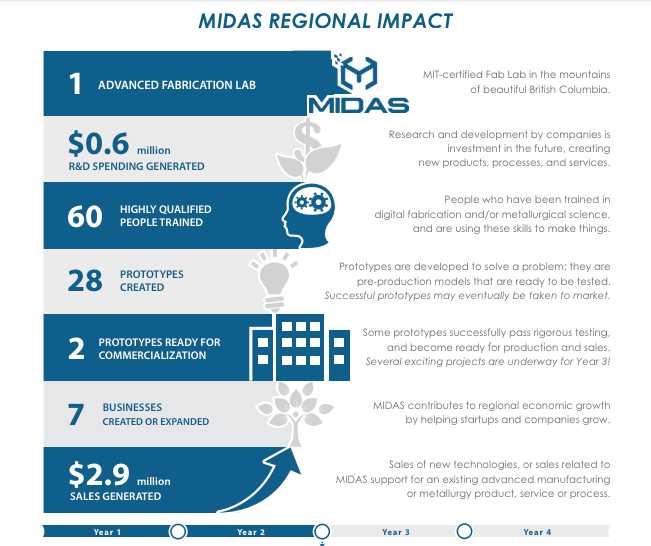 KAST provides a powerful regional focus for innovation, with strengths that small individual communities would be hard-pressed to provide — or acquire — on their own. The organization may serve as a model for other rural BC regions going forward.
Kaslo InfoNet Society (KiN)
There is rural. Then there is remote.
By now it is obvious that in addition to fostering a culture of innovation generally, any community or region wishing to fully participate in the 21st century economy must have access to adequate bandwidth. What roads and electricity were to the previous century, high-speed internet is to this one, as underscored in a recent forum hosted by the Centre for Rural Strategies
This presents small, remote communities with a particular challenge. Private internet providers are often loath to provide these communities with fibre optic connections, arguing that the combination of remoteness, rugged terrain, and small populations makes a fibre build-out un-economic.
This is a problem rural communities such as Trail, Salmon Arm, and Revelstoke don't face, thanks to their size and positioning on significant communications corridors. But small, isolated, remote communities like Kaslo, population 938, situated in the heart of the mountainous North Kootenay Lake region, are out of luck.
Or are they.

In Kaslo's case, the Kaslo InfoNet Society (KiN), a local, non-profit internet provider has shown it's possible for the smallest, remotest of communities to access big city bandwidth — all it takes is determination, a critical mass of industry know-how, and an innovative, "rural-centric" approach to problem-solving.
Broadband access is simply the first, necessary step — it's what communities do with it that matters most. Having broadband access allows a community to keep its head above water. Not having it means sinking. While broadband access may assist in both job creation and attracting new forms of online entrepreneurial enterprise in rural settings, institutions such as libraries, healthcare facilities, and schools often lead the charge in demonstrating the benefits of high speed Internet access. In some cases, broadband services that allow e-health and e-learning services may mean the difference between a community retaining its health clinic or school, or seeing them close. Additionally, broadband affords rural communities the ability to effectively communicate with one another and the rest of there world.
In Sweden, a large, sparsely populated country by European standards with a climate similar to Canada's, the government aims to reach 90% of the population with 100-megabit broadband services by 2020, and has approved an expenditure of nearly $600 million to support rural expansion in particular over the next six years. Most of Sweden's broadband infrastructure was developed, funded, built, and supported by local and national governments, with "last mile" infrastructure and connecting fibre loops accessible to a variety of telecoms, cable service providers, and Internet Service Providers — all with equal access to the consumer-facing and core networks on "equal and non-discriminatory terms." This has created intense competition, forcing prices down as providers are encouraged to develop new features to differentiate themselves from their competitors.
Here in Canada, major telecom providers argue that because of the country's vast geography and sparse population, there is little incentive to lay down broadband infrastructure in rural and remote regions of the country. In 2010 the CEO of telecom provider MTS Allstream told the CRTC it would cost over $7 billion to close Canada's urban-rural digital divide — a number that appeared daunting at the time. Yet Australia, facing similar structural challenges, including an urban-rural divide, has spent $43 billion to ensure broadband access to every corner of the nation. Norway and Finland guarantee their citizens broadband access, regardless of how remote their communities.
A combination of new federal funds earmarked for rural broadband and the emergence of significant BC initiatives such as Pathways to Technology (focussed on providing BC First Nations with broadband access), and Columbia Basin Broadband Corporation (CBBC, a wholly-owned subsidiary of Columbia Basin Trust with a mandate to connect almost 40 Basin communities with high speed fibre), holds the potential to see remote BC communities establish their own broadband networks, based on local needs and capacities.
Kaslo is a small village located an hour's drive north of Nelson on the shores of Kootenay Lake, surrounded on all sides by water and rugged mountains. Kaslo is shrinking and ageing. It is generally poorer than the BC average, and has less ethnic diversity than the province at large. Kaslo's current population hovers around 1,025. There are roughly 400 households in the village proper, with approximately 20% of these second residences. The following chart reflects population, earning, and employment numbers from 2005, comparing Kaslo's figures with those for the entire province.

Kaslo's community-based efforts to improve connectivity emerged because, like many small rural communities and remote regions in BC, the village had historically struggled to obtain usable internet bandwidth. In the mid to late 1990s, the Kaslo Public Library administered Public Access Terminals, providing slow dialup service to the public unable to obtain Telus service. Then, led by two local teachers, a consortium that included the Kaslo Public Library, VV Humphries School, Selkirk College's Kaslo office, and DESK (Distance Education School of the Kootenays) helped establish the Kaslo InfoNet Society. The new organization set up a bank of modems at Kaslo's JV Humphries School in the late 1990s, which provided a local dialup Internet number for people living in and north of Kaslo previously unable to connect (or unable to afford) using Telus. KiN charged $120/year for a rickety service that at its best provided users with 28.8 Mbps connectivity.
Up until the last few years, KiN's primary focus was on the rural areas around Kaslo — the village itself was served by Telus and Nelson-based NetIdea, piggybacking on Telus equipment. Available bandwidth was severely limited by Telus' ADSL, copper wire-based infrastructure — the company made it clear it had no intention of extending fibre into such a small, remote market. It was becoming increasingly obvious that Telus' combination of slow bandwidth and poor service was standing in the way of the community's development. When Columbia Basin Trust (CBT) approached the Village of Kaslo in 2013 with a proposal to bring a 100 Mbps fibre link to Village offices at a cost of a few hundred dollars a month, the Village quickly said "yes, please," and invited KiN to administer the bandwidth, using it to make truly high speed Internet access available to local and regional residents, businesses, and NGOs.
Through a series of shareholder loans, KiN was able to begin building out both "air fibre" and trenched fibre in and around Kaslo, beginning in the spring of 2014, while it, with the assistance of CBBC, (successfully) sought funding for its fibre expansion through the federal Connecting Communities program and the Northern Development Initiatives Trust. KiN is currently extending underground fibre in Kaslo and areas to the south and north of the village. Working with CBBC, it has accessed funding that have allowed it to bring multiple strands of fibre across Kootenay Lake to Balfour, then run it north, all the way to Meadow Creek beyond the northern end of the 140-kilometre-long lake, providing rural residents with the possibility of accessing gigabyte bandwidth — as fast or faster than the best service available in major centres around the world — at rates competitive with or lower than industry standard charges for comparable services.
How KiN Works
KiN works closely with both the Village of Kaslo and Area D of the Regional District Central Kootenay. In terms of expanding fibre infrastructure, it collaborates with CBBC, which acts as an intermediary, placing itself between the telcos and KiN — when KiN accesses fibre, it accesses it through CBBC, a well-funded regional organization with the ability to negotiate favourable bandwidth access terms with the major providers. KiN has historically turned to federal, provincial, and foundational funding for capital expenses. As noted above, cashflow shortfalls have been bridged by directors via debentures. Once fibre is in place it has a lifespan of at least 40 years, with little or no maintenance required. This allows KiN's pro forma financials to project quite healthily, as users switch from Telus and NetIdea to KiN, with its offering package that features faster, more reliable connectivity coupled with better bandwidth, leading to increasing monthly cashflow with significant decreases in capital expenses and physical labour costs. KiN believes it can achieve at least an 80% penetration rate in the Kaslo market.

It's important to note that this is nearly a quarter million dollars a year — over $1 million in five years — that previously flowed out of the tiny village to Telus — revenue that will now stay and work in and for the community.
First a Freeway, Then an Offramp
KiN would not have been able to access fibre, if CBBC hadn't stepped in. The existence of a big, decently funded regional player able to negotiate major bandwidth purchases from the big telcos made all the difference.
Think of it like this: the telcos "own" info freeways, and have no interest in building "off ramps" to small, isolated communities — not enough customers, too expensive, not lucrative enough, they argue. So CBBC is building its own freeway, in the Columbia Basin, and wants to include lots of off ramps, to 38 places in all — including Kaslo.
Here's an excerpt from CBBC's 2016 Strategic Plan:
To meet the needs of residents and communities, Columbia Basin Trust has made broadband one of its strategic priorities. It created a wholly owned subsidiary, the Columbia Basin Broadband Corporation (CBBC), to work toward providing connectivity to a broadband network across the region and fostering the development of services over that network.

The Trust provides funding support for CBBC's ongoing operating costs, and the costs of activating CBBC's fibre optic network in the region. A significant portion of CBBC's initial goal has been achieved: to light up the regional network. We are now working with communities and rural areas to interconnect them to the network, while exploring and pursuing opportunities to expand the network where appropriate.
Kaslo — and KiN — are leading the charge in working with CBBC to "interconnect" and "expand the network." There are clearly opportunities for other CBT-like players across BC to emulate the CBBC—KiN experience — and valuable, ongoing lessons to be learned from their experiences.
The existence of KiN fibre is beginning to have an impact, attracting businesses ranging from a national electric bike dealer, to North America's first flying car seller(!) to the village.
Summary
These three examples of rural tech-centric innovation — Mountain CoLab, KAST, and KiN — clearly demonstrate no rural community or region need be left behind, doomed to atrophy as major centres prosper.
Innovation — the willingness to think outside the box, embrace change, search for synergies and alliances within and between communities — can result in a new vibrancy, resulting in an expanding economy, a fresh inflow of bright, entrepreneurial newcomers, and a renewed sense of hope and enthusiasm.
For more information on rural innovation, see our website's Rural Revitalization section.