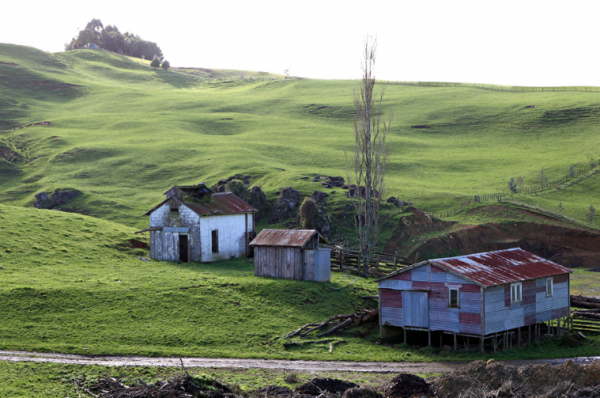 For Sale: One Deserted Village Left Behind In Rush To New Zealand's Cities
Rural de-population is a global issue, as evidenced in this article from New Zealand by reporter Eleanor Ainge Roy. 
An entire village which has been deserted for three decades is up for sale in New Zealand.
Lake Waitaki village was built in the 1930s as workers accommodation for dam labourers but has lain largely empty since 1989 when the dam's operation was automated.
Located on the edge of the Waitaki dam in the South Island, it boasts mountain views as well as eight three-bedroom homes, a restaurant, a lodge, water rights, nine garages and 14 hectares of land – all for $2.8m (£1.4m).
Waitaki is just one of many small communities that have struggled to stay afloat as the New Zealand's population has become increasingly urbanised. Two years ago the tiny town of Kaitangata in South Otago launched a global campaign to boost its population, saying it had too many jobs, too many houses and not enough people to fill them.
The Labour-led government has earmarked a billion dollars a year for the regional development fund, designed to revitalise the regions by luring people away from the cities and back to struggling rural areas.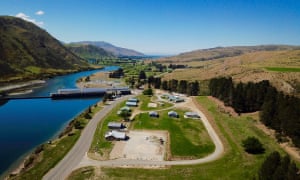 Lake Waitaki was sold by the state to a private buyer in 1991 before passing through several hands over the years.
Since the New Zealand government brought in a ban on foreign buyers last week, estate agent Kelli Milmine said it was hard to tell which prospective buyers were domestic and which were international, because foreign buyers had started using New Zealand intermediaries to make enquiries. Some Chinese nationals had expressed interest, she said.
Trusts and companies that are registered outside New Zealand or are more than 25% foreign owned will be treated as foreign individuals and prohibited from buying residential property, but can purchase land or non-residential property through the overseas investment office. Overseas buyers are also allowed to buy residential property if they are resident in New Zealand and intend to live in the property as their main home for 183 days of each year.
Milmine said the village hadn't been "thriving" since at least the 1970s.
She said there had been "heaps" of interest, ranging from people wanting to create a boutique farm, a winery, a tourism venture or a communal living arrangement for their friends and family.
The price tag for the village was putting off some locals, Milmine said, with domestic buyers willing to offer about the NZ$1m mark.
The village was originally home to 40 staff and their families, as well as the hub of activity for the 1,200 workers who laboured on the dam. Waitaki Dam was the last in New Zealand to be constructed using tools such as picks, shovels and wheelbarrows, as part of a government initiative to reduce the unemployment rate.