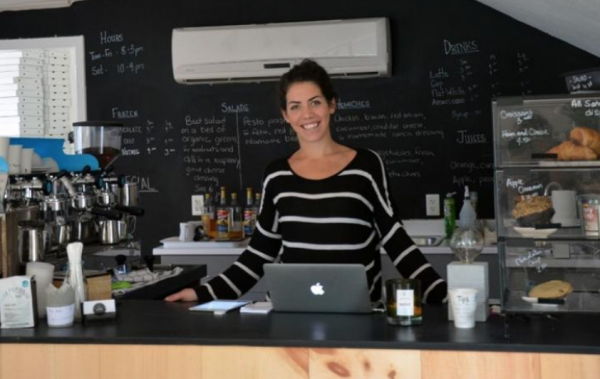 Café Culture Comes to Rural Ontario

Café culture stirs the pot in rural Bath
One of the first things young people look for when considering a move from an urban centres to a rural setting is the availability of great places to eat & drink.
When Lauren Gamble returned to rural Ontario after working in Australia for a number of years, she brought back a wealth of wonderful friendships and life-affirming experiences – and a deep and abiding appreciation for the café culture that was embedded in everyday life for most Aussies.
Blessed with an prodigious work ethic and an entrepreneurial mind, Gamble decided she wanted to open and run her own coffee shop somewhere in Lennox & Addington (L & A) County – a place with a unique style and tone. It would be a welcoming place, with great coffee, home-made eats and a true gathering spot for the community.
When it was known that the building that the former Rosa's was in, in the heart of downtown Bath was available, Gamble jumped at the opportunity to fulfill her dream, and on the Canada Day long weekend in the summer of 2016, The Lodge was born.
"When I was in Australia I managed coffee shops and it was an industry that I just kind of fell into. And I don't know if you have ever been to Australia but they have a huge coffee industry and a real café culture. So it's like pubs in Ireland – everyone has a café that they go to. It's sort of a ritualistic thing as all the cafes are very different, so you find one with the atmosphere that you like and that works for you," said the Toronto native, who grew up in Ottawa but now lives on the shores of Hay Bay in Greater Napanee.
"Of all the things that Australia has to offer, that was what I missed the most, and we don't really have that as much in Canada, although it is getting there. I missed it so much that I decided to try and start one myself."
By chance she found out about Rosa's closing and the availability of the building, which is located at the corner of Main and Lodge Streets, and agreed to rent the facility. At a feverish pace, she managed to complete all the necessary renovations and paperwork in time for The Lodge's Canada Day opening.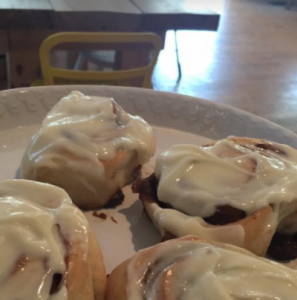 "We wanted to create a new atmosphere here. I can't come in and try to do the exact same thing that worked so well for Rosa, because I am not Rosa. So why try. Even though I had managed coffee shops, there still was a learning curve. I did all the renovations here in about 10 days and I had to have all the inspections and things like that. I had to have tables made and cabinets put in and cups and cutlery ordered – all these things that I had never done before. So that was a stressful experience, but fun," Gamble said, adding that throughout the process, she received a great deal of help and support from the community and L & A County officials.
"The health department here is amazing. They are a little more particular than a lot of other counties, but they are also really helpful. The person I worked with wanted to see my business and other businesses in the area succeed. They were there to help, not hinder. Everyone I have dealt with in Bath has been super helpful. The golf course community has been a massive source of business for me and they all want me to do well, so they help promote me, which is amazing."
The Lodge features a range of espresso-based caffeinated beverages, as well as fresh baked goods including cookies, doughnuts, muffins and croissants. There are also sandwich options on fresh focaccia bread and a couple of unique salad offerings.
Even with the help of community members of other businesses, one of the biggest challenges Gamble has faced is learning the best way to communicate with her prospective customers, and coming to understand that, as a 27 year old, she communicates via different media than much of her neighbours in Bath and even the tourists passing through the area.
"I guess you could say there is a generational gap. But it's interesting that in general I seem to get along with older people but I generally communicate as a 27 year old which is mostly through social media. I mean, I have had Facebook since I was 16. So I had to learn to put out flyers and things like that, which to me are old school ways of communicating – but not to them. So it was like a reverse adaptation to something more low-tech to get my message across."
Gamble said after her dad moved to Hay Bay she would visit often and lived there while she went to college in Kingston. Although she has spent much of her life in the urban metropolises of Ottawa and Toronto, she loves the rural lifestyle of L & A County.
"I love everything about living here. I love the people. I know as Canadians we are pretty friendly and helpful as a people, but living in the country I have never felt so supported. If your car is stuck in the driveway you have five people to help you get it out. There is a real element of community spirit. Everybody who lives around me now knows that I grew up in the city so they have kind of taken me under their wing and nurtured me into rural life," she said.
"And it's so quiet. I love the solitude. There is nothing better than quiet and looking up at the stars and night. And my family lives close by. I love everything, I wouldn't want to live or run my own business anywhere else."