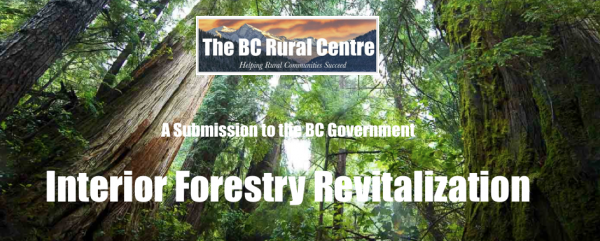 BCRC Submission to the BC Provincial Government's Interior Forestry Revitalization Engagement Process
The most recent downturn in the forest sector is creating significant challenges once again for many rural communities and families.
Unfortunately, these most recent layoffs and closures add to an over twenty-five year trend of decline in employment in the provincial forest sector. Technological change, corporate consolidation, and the advent of the so-called "super-mill" has erased tens of thousands of jobs and closed over 80 mills in the province over the past twenty-five years.
Falling timber supplies are now magnifying the impacts of these pre-existing trends. We need forest policy changes to ensure that BC's First Nations, rural communities – and indeed the general public – are receiving the greatest environmental, social, and economic return from BC's publicly owned forests and forest lands.
Click on the image below to access BCRC's submission to the BC provincial government's Interior Forestry Revitalization engagement process (October, 2019).