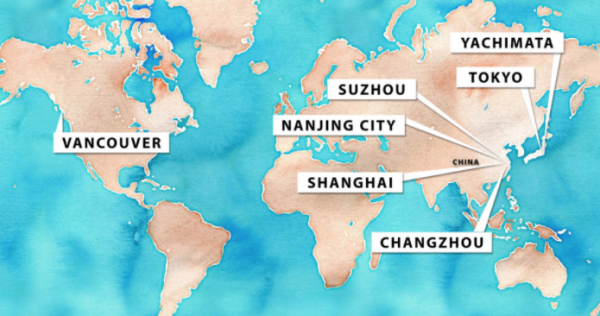 BC Forestry Trade Mission to Asia Launches
The BC Forestry trade mission to Asia is British Columbia's largest-ever forest sector delegation to China and Japan, according to Forests, Lands, Natural Resource Operations and Rural Development Minister Doug Donaldson. The mission, from Nov. 12 to 17, sees Minister Donaldson joined by over 30 senior executives from B.C. forest companies and associations.
"We need to continue to diversify and expand markets for B.C. wood products, both at home and abroad," said Donaldson. "Forestry is one of B.C.'s founding industries, and an important part of a sustainable economy, that in 2016 supported more than 60,000 workers and their families in communities throughout B.C."
China and Japan are B.C.'s second- and third-largest markets for softwood lumber products. Trade mission participants will meet with customers and government officials, and explore ways to raise the value of the products B.C. exports.
"B.C. is a world leader in sustainable forestry, and our carbon-friendly building materials are in demand around the globe," said Susan Yurkovich, president and CEO, Council of Forest Industries. "We currently export about a third of our forest products to China and Japan and see more opportunity to grow in these markets and to showcase how B.C.'s innovative building materials can help reduce the environmental impact of the built environment."
In China, delegates will discuss how B.C. wood products can help the country meet ambitious goals it has set related to prefabrication and green building. They will attend the third annual Sino-Canada Wood Conference, which will emphasize opportunities for wood in prefabricated construction.
Trade mission delegates will also meet with officials from Jiangsu Province to review the progress made to advance wood-frame construction with the support of B.C. experts, including a wood truss reroofing system and prefabricated infill hybrid walls.
"Trade missions such as these help reinforce the fact that B.C. is a reliable trade partner for high-quality wood products from sustainable sources," said  Rick Jeffery, president and CEO, Coast Forest Products Association. "They help us to advance new high-value opportunities, from multi-storey residential buildings in China to tourist resorts in Japan."
In Japan, the focus is on expanding the use of wood in multi-family and non-residential construction, and new applications for higher-value engineered wood products. Delegates will tour a resort construction site in Koyaru, and learn about growing opportunities for B.C. wood in Japan's tourism sector. The Minister will visit the Canadian Pavilion at the Japan Home & Building Show and tour the Tokyo Lumber Terminal.
Quick Facts:
In 2016, B.C.'s softwood lumber exports to China totalled over $1 billion.
In 2016, B.C.'s softwood lumber exports to Japan totalled $725 million.
In 2016, B.C.'s forest sector directly supported 60,000 workers and their families in more than 140 B.C. communities.
For more on BC's forestry sector, in particular the importance of Community Forests to rural British Columbians, see our Forestry page.