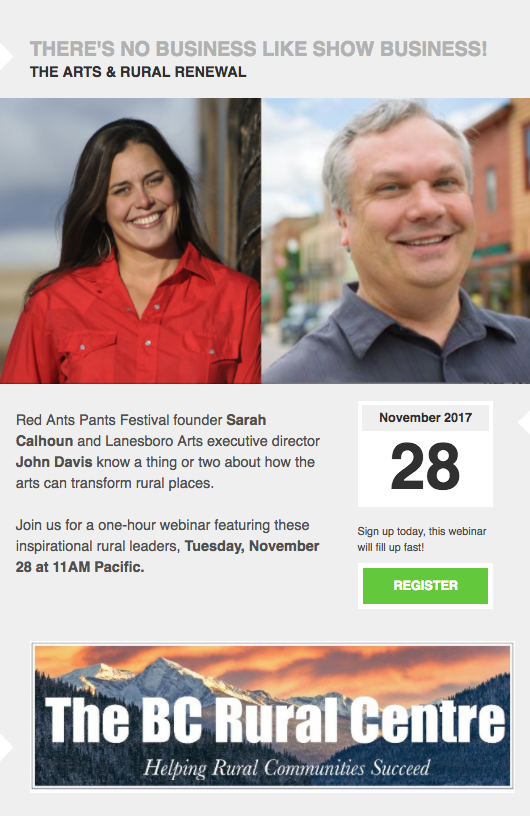 Sarah Calhoun of White Sulphur Springs, Montana, and John Davis of Lanesboro, Minnesota discussed their respective experiences in helping bring positive change to small, remote communities.
Sarah Calhoun
Sarah has been called a "revolutionary figure in rural business today," and a "powerhouse of inspiration for women in business." Her dynamic style and inspiring experiences as an entrepreneur and festival impresario make her a highly sought-after keynote speaker and have been featured on CNBC, CNN, and Bloomberg.
Sarah was raised on a farm in rural Connecticut. She was inspired to move to Montana by Ivan Doig's This House of Sky. From her home in the small town of White Sulphur Springs, she has become an inspiration to entrepreneurs and music lovers across North America and is known for her dedication to supporting rural communities.
Sarah's hard work has brought her recognition as the 2012 National Women in Business Champion for the U.S. Small Business Administration. In 2011 she was invited by President Obama to attend a White House forum on jobs and economic development after serving as a delegate to the APEC Women in Business Summit hosted by Secretary Hillary Clinton in San Francisco. Closer to home, she was named 2011 Entrepreneur of the Year for the State of Montana. She and her company have been featured in many publications, including Entrepreneur, National Geographic, and Sunset magazines.
The founder of the Red Ants Pants Foundation, Sarah took the lead in creating and now directs the Red Ants Pants Music Festival, which attracts nearly 20,000 patrons to a pasture on the outskirts of tiny White Sulphur Springs every year.
John Davis
John Davis moved to New York Mills, Minnesota from Minneapolis in 1987 because that's where the $10,000 he had saved up would buy him acreage. "People there didn't see me as an agent for change. They saw me as a guy who worked really hard painting houses and barns." And they liked him. And he liked them. John soon noticed people wanted the arts, so he asked: "How can we weave the arts into this community so tightly that it's hard to remove it?"
Within three years he had founded an artist residency in his home, established a nonprofit in an abandoned building downtown, and started the Great American Think-Off. Under John's leadership. the New York Mills Regional Cultural Center received $35,000 from the New York Mills city council — the equivalent, he claims, of asking a city the size of Minneapolis to donate $13.7 million for a cultural initiative.
That investment has paid off handsomely. Today, prospering New York Mills' economy is dominated by arts and culture. An artist and visionary as well as a highly pragmatic man, Davis has proved to be brand savvy, marketing shrewd, budget conscious and very persuasive in promoting rural communities. Small cities and towns are turning to him for advice on how to reap benefits, especially economic benefits, from their unique cultural and historical assets.
John is currently the Executive Director of Lanesboro Arts, in rural Minnesota.