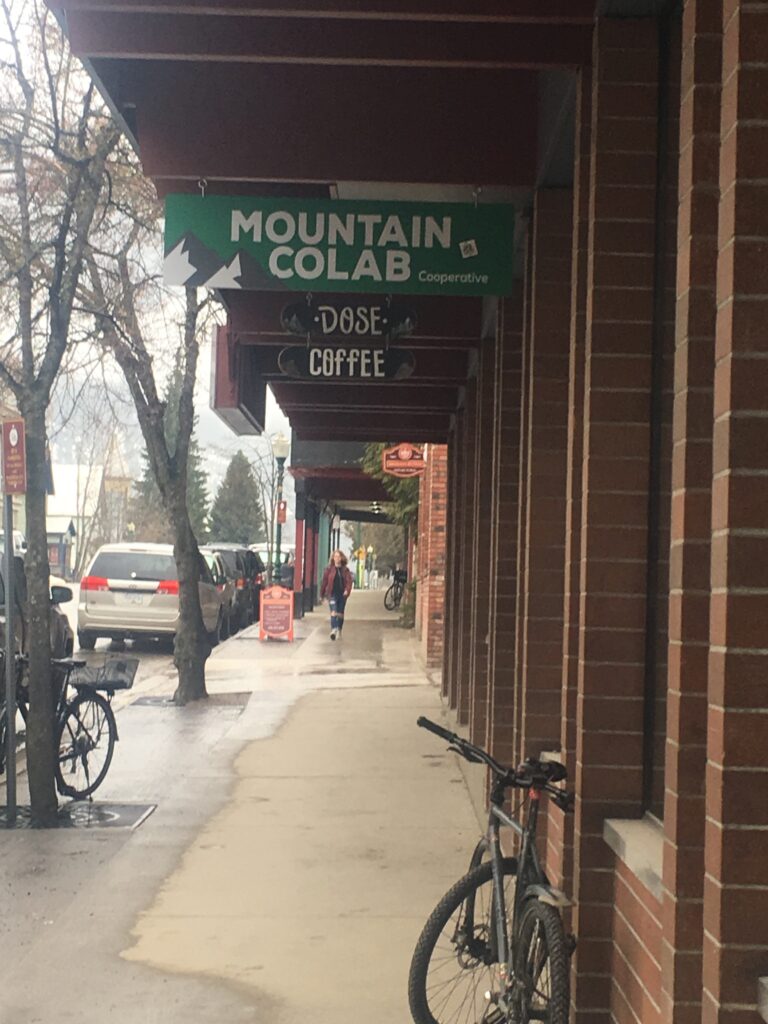 Digital Nomads Are Redefining Work in the Kootenays
A year ago, the Revelstoke Mountaineer noted that the workplace is changing beyond recognition, thanks to new technologies like web collaboration tools, smartphones, and next generation internet connectivity, freeing folks to work from wherever they want. We have entered the Age of Digital Nomads.
Co-working spaces popping up
The growth in the freelance economy has also prompted the emergence of co-working spaces like Revelstoke's  Mountain CoLab (see below), catering to these self-employed professionals. This is a diverse bunch, working in spaces that include tech, communications, engineering, education, design, photography, fashion, accounting, sales, among others.
In the last few years, digital nomads have been flocking to cities like Bangkok, Berlin and Budapest where costs of living are relatively cheap and the WiFi widely available and reliable. They've been characterized as borderless "citizens of the world." They aren't quite tourists and yet, they aren't quite residents. Co-working hubs and home-office hybrids for travelling professionals are popping up all over the place to bring together these 'short-term expats,' who seek social interaction, networking opportunities, a good internet connection, and a decent place to hold client meetings.
Besides the constant quest for a decent Internet connection, digital nomads base their travel decisions on cost of living in their host cities, since they usually stay in their adopted communities for longer periods of time than the typical tourist. In a town like Revelstoke, they come for the lifestyle, for outdoor recreation such as skiing, biking, hiking, and climbing. They are also looking for social support, knowledge sharing, networking, and partners to innovate with outside their professional co-workers in the other side of the planet.
Piotr is a web developer from Poland in Revelstoke for the winter
"I'm a ski addict, so I when I look for my winter home, I just focus on snow conditions and mountains around. That's why Revelstoke was an obvious choice. I used to not expect too much from ski towns — coworking spaces and vibrant tech communities tend to stick to the big cities," Piotr said.
"But Revelstoke has proved me wrong. Not only have I found an amazing skiing, but also a great CoLab and a community built around it. I think that being surrounded by people with similar values and mindset is the best motivation for me to both work and play hard. I'm really excited that now you can find those people outside big cities, in places where you can easily follow outdoorsy passions and still develop a career. It's the essence of remote work for me."
Henning is a transplant from Germany with an architecture background, working to innovate the local wood products industry.
"In 2012 I quit my job as an architect in Germany, to go to Canada to ride my mountain bikes as much as possible. After leaving Whistler and on the way to Banff, I got 'Revelstuck.' I started working for Take to Heart, a specialty wood product sawmill local owned in Revelstoke. Over the years we started to develop new sustainable construction and housing concepts. When I'm working my projects I'm going to the CoLab, here I get into a work environment where I can focus and am able to network. It's right in the middle of downtown which makes it very convenient to meet with customers or go back to work after some riding on the lunchbreak."
Alastair and Nerida are a couple from Australia in the web and fashion industries.
"I've been working remotely for companies in Australia and the US as a web developer since 2014," Alistair said.  "In choosing a place to visit, we look for lifestyle opportunities as well as practical considerations such as time zone and cost of living. Revelstoke is an amazing place to live given the breadth of outdoors activities available. Its relative remoteness seems to have helped bond the community with terrific programs like that offered by the Mountain CoLab. We did find it challenging though to secure an apartment, and housing is certainly an area I'd like to see improved if we're to return."
While this digital nomad lifestyle may seem more suited to carefree millennials, there are families with children jumping on the digital nomad bandwagon too. And in fact, telecommuting can promote slow, responsible travel.
The rewards of living lighter and more fully outside of a cubicle, and earning a living while venturing out in the wider world can ultimately be a thoroughly satisfying one. With traditional office work slowly giving way to a new work ethic, redefining what it means to be productive and meaningful, the digital nomad way of life may very well become a new normal.
Enter Mountain CoLab
Revelstoke's Mountain CoLab provides an ideal landing spot for digital nomads and local entrepreneurs alike.
CoLab provides a beautiful, central space for entrepreneurs, freelancers, non-profits, and remote employees to work, meet, and network. Modern, shared office experiences with private and open concept facilities that include all amenities for work/life balance together with 150Mbps fibre Internet are available at very reasonable rates.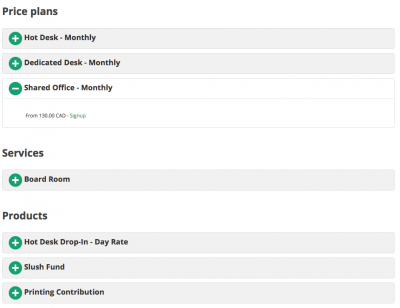 In two years of operation in Revelstoke, CoLab has grown to 50 members, and has brought hundreds of professionals, locals and digital nomads alike, together to build the community and integrate sustainable businesses.
 CoLab is an official Startup Canada Community,  connected across the country to 150,000 entrepreneurs, as well as mentors, programs, and funding. (Read more about 
Startup Revelstoke).  
CoLab offers full-time, daily, and monthly space for work, events, or retreats. Visiting professionals can book a hot desk or meeting room online.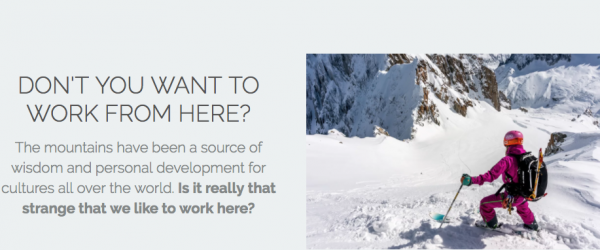 CoLab is also part of the Mountain Coworking Alliance (MCA), a group of elite resort municipalities around the world that work together to share knowledge. Through collaboration and creativity, the MCA serves as a resource for the mountain co-working community. Through the alliance, Mountain CoLab members can work in other mountain communities at their co-working spaces and vice-versa. The partnership provides opportunities for individuals from other communities to come and work in Revelstoke throughout the year.
In its 2017 President's Report, CoLab reports:
Almost 40ish full time members and 100 Co-op members that have walked through the door in 2.5 years of service
In our annual survey, we have a 99% satisfaction rate ✨
78% stating that you are getting more work done more than ever
50% saying you are meeting best friends forever BUT
40% really wanting more social & business collisions
AND 80% of us are working SUPER hard for the money and 30% need more leisure time ⛷?
The majority say we need to do more work on reducing noise, increasing privacy and help people keep focus
BUT 92% are here for the longer term
CoLab's collaborative ecosystem includes players such as;
KAST & BCIC
Startup Revelstoke
Community Futures
Chamber of Commerce
RCU
Stoke Youth Network
WorkBC
SmallBusinessBC
The Global Entrepreneur Network
Large and small local employers
Mountain Coworking Alliance
BC Coworking Association
In the end,  CoLab aspires to help build a sustainable mountain community in Revelstoke, one where business for social good succeeds with support from participating/contributing technologists, non-profits, freelancers, and entrepreneurs. Certainly bringing together a diverse mix of people, ideas, businesses, and academics under one roof helps to improve the vibrancy of Revelstoke's downtown.
We've only seen the start of the experience we expect to hurtle through in the next decade. Mountain CoLab will do everything it can to promote new ideals of rural life—including science, arts, technology and lifestyle.

— Jean-Marc La Flamme, President, Mountain CoLab