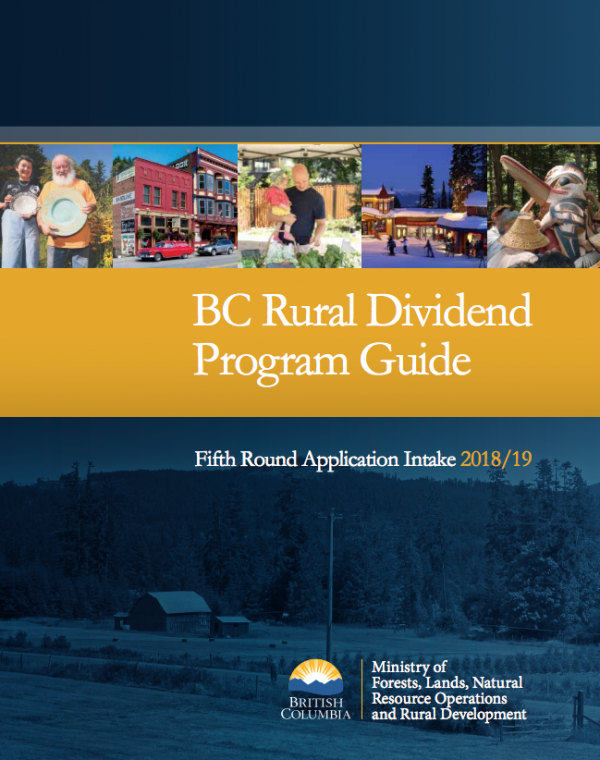 New Rural Dividend Intake Begins June 1, 2018, July 31 Deadline
New Rural Dividend Intake Announced
The BC Rural Dividend provides $25 million a year to assist rural communities with a population of 25,000 or less to reinvigorate and diversify their local economies. It was developed to recognize both the contribution rural communities have made to B.C.'s economy, and the unique challenges they face to diversify beyond natural resources. The Rural Dividend is intended to contribute to the strength and sustainability of small rural communities, making them more attractive places to live and work. The program is focused on supporting worthy projects that help rural communities navigate changes impacting their economies, such as attracting and retaining youth, using innovation to drive economic growth, and developing new and effective partnerships to support shared prosperity.
The Rural Dividend is administered by the B.C. Ministry of Forests, Lands, Natural Resource Operations and Rural Development.
Applications for funding in the fifth intake of the BC Rural Dividend program will be accepted June 1 to July 31, 2018. This is the only application window for 2018-19.
For further information on program details, click here. For information on how to apply, click here.
Here are some frequently asked questions about the Rural Dividend. For information on projects funded during previous intakes, click here. And here's a BC Rural Centre blogpost on the previous Rural Dividend intake.