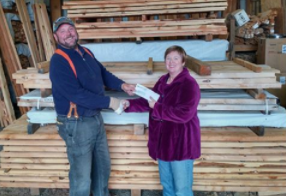 Western Juniper is a native species in Central Oregon. Over the past century, it has begun to outcompete other native vegetation and interfere with the balance of the local ecology. Because harvesting Western Juniper in Central Oregon is critical for grassland restoration, there is a tremendous opportunity to create an income stream for the region by marketing Western Juniper as a sustainable wood product. Through the Rural Development Initiative's WealthWorks program, RDI and its partners look for solutions to expand economic opportunities for local industries, and ultimately build lasting community wealth. With additional equipment, Kendall Derby, owner of In the Sticks Juniper Sawmill in Fossil, Oregon, will be able to expand his businesses and increase the viability of juniper harvesting and lumber production as a livelihood by addressing the issues of quality control, inventory management, and marketing, while helping to restore balance to the local ecology.
"Juniper market development is all 'small business' as it becomes a new industry. RDI is investing early and helping shape the future of juniper," explained Derby.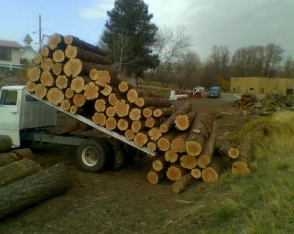 WealthWorks Northwest is an economic development framework that aims to build not just financial, but multiple forms of wealth that can benefit community residents today and for generations to come, while rooting value in local people, places, and businesses. Some groups are now investing in ways that address gaps and constraints in local and regional economies and are taking advantage of opportunities to expand business opportunities and wealth creation in rural areas.
Support for RDI's WealthWorks Northwest program comes from Meyer Memorial Trust, Northwest Area Foundation, and The Ford Family Foundation.
In the following instalment of Oregon Public Broadcasting's Think Out Loud program,  Kendall Derby explains how the industry has been growing, and gives his view on the impact of recent state grants to juniper loggers and sawmill owners like him.